Personal Emergency Response System
Whether you are looking for a Personal Emergency Response System (PERS) to help with medical emergencies or safety concerns, this unit is the solution for you! Monitoring agents are trained to provide assistance for a wide variety of personal safety and security situations, and only you can decide when it's time to call for help. This PERS unit is designed for anyone who feels their safety is being compromised or threatened, or could use some professional help in determining the appropriate course of action, especially if they're not sure if they should call 9-1-1. Maybe you're walking alone at night and suddenly you get the feeling that you're being followed. It could be your child who calls the Urgent Response center, because he or she is lost or feels unsafe at school. There may also come a time when you or your parents need immediate medical attention. No matter what the situation, monitoring agents are standing by 24 hours a day, seven days a week, ready to respond.
Features:
Mobile: Get help anywhere you go
Highly-Trained Certified Agents: Monitoring Agents are trained in emergency procedures
Fastest Agent Response Time: As awarded by Good Housekeeping Research Institute
Easy to Wear: Clip on a pocket, wear it around your neck
Patented GPS: Built-in technology confirms location quickly and accurately
Fall Detection: Add Fall Detection service to automatically call when a fall is detected
Waterproof: Safe to use in the shower or out in the garden
Most Affordable: Lowest price mobile medical alert service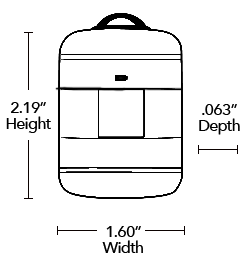 POWER: We recommend charging your battery every day to ensure you are always connected.
BATTERY TYPE: Lithium-ion
BATTERY CAPACITY: 525 mph
INDICATORS: Visual - Battery & service LEDs; Audible - Verbal and tones
WHAT'S INCLUDED: Charging Cradle, Accessory Clip, Magnetic Lanyard, User Guides
CAPABILITIES: Range - Mobile where cell phone service is available; GPS - Built-in patented GPS technology; Waterproof Rating - IPX7 (immersion in 3.3 ft of water for up to 30 minutes); Speakerphone - Two-way communication with the monitoring center and 9-1-1; Fall Detection - Built-in technology to sense sudden falling movements (enabled with Ultimate Health and Safety package)